At Artist, Crafters, and Tradesmen Insurance (ACT), we are always trying to find unique ways to help you. Because so many of you have, or would like to, use Etsy to sell your products, here are some tips and tricks from ACT to help you get the most out of your Etsy shop.
WHO IS YOUR MARKET?
This is one of the most important questions that you need to ask yourself. You need to understand who your customers are, what they want, and how they behave. Using tools on Etsy, Google, and Facebook, in addition to data you've collected from your current customers, can make finding crucial information—including age, gender, interests, and lifestyle—an easy task. While you're researching your market, you'll also want to check out your competitors. Researching those who sell similar products to yours will give you invaluable insights. Not only can it help you set a competitive price for your art or craft, but it can also allow you to see what products and content your prospective customers respond to best.
PHOTOGRAPHY
As an artist or crafter, you know the importance of creating an excellent product. Now put that same effort into ensuring your presentation and advertising is held to that same standard of excellence. When it comes to Etsy, the old saying "a picture is worth a thousand words" has never been more true. You just need to be sure that the thousand words people have to say about your shop are positive. While it's true that phone cameras are producing higher quality images every year, don't trust them to take the best shot for advertising your art or craft. You don't necessarily need to have the same quality lens as a professional photographer, but you should find a camera that takes good pictures. Once you've got a decent camera, make sure the pictures you take are well lit, in focus, and clearly display your product.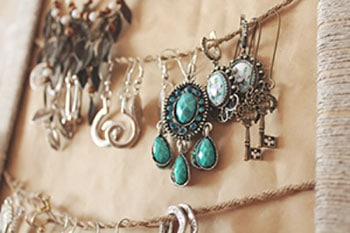 SOCIAL PROMOTION
Once your Etsy shop is set up, next comes the hardest and most crucial part: turning customers from skeptical prospects into believing buyers. Luckily, there is social media, and it can help you reach and connect with your current and potential customers. When Facebook and Instagram are used properly, they can be an artist or crafter's best friend. Frequent posts are one way to engage your audience. But you'll also want to use the information from your market research to create well-targeted ads that reach new people who are more likely to buy your product.
LEVERAGE YOUR SOCIAL NETWORK
Look, Etsy can sometimes be a little difficult to work with, but that shouldn't stop you from using it. While you can always ask for help from Etsy's help center, you can also find groups created by real Etsy sellers on most social media sites. These groups help you learn and improve your shop with feedback from experienced sellers. Here are just a few to help you: Facebook:
SEARCH ENGINE OPTIMIZATION
Everything on your Etsy shop needs to be detail oriented, which means doing everything with SEO in mind. If you haven't already, you should start using Google's keyword tool. This can help you find what phrases your customers are most likely to search when looking for products similar to what you offer. It can also tell you how many people search those terms. Armed with this data, you will be able to utilize your keywords throughout all of your marketing efforts. This includes using them in item titles on your Esty shop, as well as in your social media efforts. Either way, it helps you reach your customers better and, hopefully, achieve your sales goals.