For artists and crafters, the tiring summer festival season is coming to a close; however, experienced vendors understand that there are still lots of opportunities to take advantage of during the fall. Here are some tips and tricks to help artists and crafters transition to the new season.
UTILIZE THE CALENDAR
The fall season allows you to get creative with your work especially with how you can make it appeal to your customers. One way to do this is by keeping track of fall holidays and events in your area. Generally speaking, you should prepare for events like back to school, Halloween, and Thanksgiving. There are two main ways to take advantage of them.
First, before each show you should take a good look at your products and see what you can do to tailor them, or how you present them, for an upcoming holiday or event. Helping your customers see that your craft or product is relative to something such as school or Halloween can encourage them to purchase your product.
The next thing to remember is that everyone love to get a deal on something. Before and during each event, you might consider doing a sale or promoting specific items to attract customers to your booth. You don't even have to discount everything in your booth, just choose a few items to discount.
PREPARE FOR BAD WEATHER
It might sound like common sense, but many people underestimate the importance of being ready for inclimate weather at fall events. It could be as simple as a drop in temperature as the sun begins to set, or as dramatic as a sudden onset of a rain or snow storm. If the weather does turn on you, you'll want to be ready.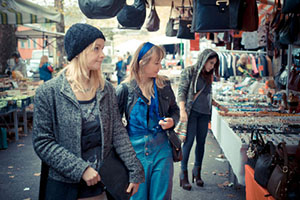 Of course you'll want to have warm clothing available such as hats, gloves, and a jacket, but you'll also want to protect your products. This means you should be prepared with tents and other coverings, but you should also have your totes and other supplies ready just incase you need them.
SOCIAL MEDIA
In the fall, it is especially important to keep up your social media presence. Not only should you be using it to showcase your work, but you also need to use it to get your customers to come to you. This means that while you might not be at a show every week, you should still post on social media at least once a week.This way you will maintain and increase your follower base and when you do post about a show, they will hopefully see it and come to your booth.
INSURANCE POLICY
Just like the summer shows, many fall art and craft shows are still going to expect you to have a an insurance policy. Fortunately, if you know where to look, this doesn't have to be a headache and you can easily and affordably be covered. ACT insurance has a show policy that covers you for as few as 1–3 days and starts at a modest $49.
Fall is an exciting time of year and there are many events and holidays to remember. Hopefully, these tips have given you, as an artist or crafter, some ideas to make your busy fall schedule run a little smoother. Remember, the most important thing you can do to gear up for fall and your business is to have enjoy each moment.