Fall festival season is upon us. Merchandise? Check. Business cards? Check. A list of ways to stand out from the crowd? Maybe not yet, but that's what we're here for!
It can be intimidating to compete with hundreds of businesses in one setting, so to help you, we've compiled a list of helpful tactics that'll make you stand out at your next fall festival.
Whether you choose to implement these tactics or not, one thing you absolutely need is event insurance for one day from ACT. Without vendor liability insurance, a negative incident could jeopardize your business and create a buzz-killing PR nightmare.
And, if you're curious about ACT's different insurance policies we'll give you the low down on our one-day-event insurance and annual event insurance. No matter your needs, ACT has your back!
Let's get started.
TIP #1: BRAND YOUR BOOTH
As a business owner, you've worked hard to build a brand that reflects the crafts you sell to your customers. You should envision your booth as an extension of your brand and a way to capture festival-goers' attention.
We recommend using your brand's typography, color palette, and logo so that customers can spot your booth from within the crowd. Plus, once you've got an established booth, people will be able to recognize you at other festivals and markets.
TIP #2: DISPLAY YOUR SELLING POINTS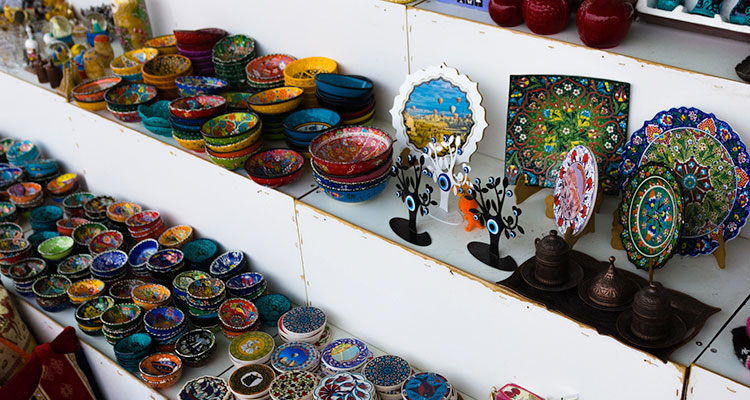 What makes your products special? Do you use eco-friendly materials? Is each product made by hand in a special process? Does it take you a specific number of hours to put things together?
Invest in reusable display materials, such as retractable banners and tripod banners to list your product's benefits. It'll help you reel in customers and might even answer frequently asked questions for them!
TIP #3: PASS OUT GOODIES
Festival-goers, like most people, love freebies. Whether you pass out samples, balloons, water bottles, or even branded stickers, you'll want to make sure each interaction is a positive one that brings people to your booth to look at your products. This is a great opportunity for you to engage with potential customers.
Pro Tip: Make sure your freebie matches your target audience. If you have art that costs hundreds to thousands of dollars you may not want to give away candy because that might only flood your booth with children. Try out different items to see what best attracts your demographic. You could even test out each item at a different festival as well.
TIP #4: BRING SOME HELP
We know it's hard to stay at your booth all day long. You'll most likely post a "Be Back in ___ Minutes" sign to go off to lunch or to take a bathroom break. However, you may be losing crucial face-to-face time with potential buyers while you're gone.
The chances of customers returning to your booth when they see you're gone are slim. With the extra help, you can have the peace of mind knowing an extra person can readily answer your customers' questions and handle purchases. Consider choosing someone who would positively reflect your brand and train them on the details that customers might ask.
TIP #5: CREATE A TIME-LAPSE VIDEO OR SLIDESHOW

Adding any kind of visual to your booth is a great way to draw people in. One popular tactic you should consider implementing to your booth strategy is displaying a video or slideshow.
This type of media can easily showcase your creative process in minutes and give people an inside look at how your work is created. Here's a guide on how to get started with a video. With programs like Powerpoint and Google Photos, you can compile images of your best-sellers, new products, or creation process for potential customers to see in a slideshow.
You can keep your media displays simple by showcasing your slideshow on a laptop or tablet. If you want to get fancy, you could set up a television or projector with your video or slideshow. This is a great way to draw people into your booth and show them pieces they may have missed otherwise.
Be sure to double-check if your contract includes power to your booth. You may have to pay an additional fee to get connected.
TIP #6: PURCHASE ONE DAY EVENT INSURANCE FROM ACT
No matter how many events you have attended, there's one thing we all know— you're in for a hectic few days. You'll have hundreds, if not thousands, of people walking by your booth, checking out your products, and asking you questions.
If you're not planning on being at more than one festival or market this season, then you really need to be carrying one day event insurance from ACT. With one day event insurance, you can rest easy knowing that if someone injures themselves at your display or if your display materials damage merchandise in another booth, you may be financially covered in the event of a lawsuit. Better yet, one day event insurance lets you sell at more shows because many events require all vendors to have insurance.
With one day event insurance from ACT, you're protected against third-party general liability claims. This policy is also great for those who are attending more than one art or craft fair within 90 days of each other. If you're attending multiple markets or festivals this season, and they're not within 90 days of each other, then you're likely better off with ACT's annual policy which allows you unlimited additional insureds and offers products-completed insurance coverage. No matter how many shows or festivals you're attending each year, ACT can help you out.
You've put a lot of work into your festival booth and in making sure each customer has a positive experience. Don't miss out on the benefits of carrying one day event insurance or an annual policy from ACT. We hope these tactics help you stand out during your next fall festival.