Few things are more infuriating to a creative person than hitting a roadblock. However, every artist or crafter—regardless of experience—will hit these frustrating stopping points. The good news is that there are always things you can do to overcome creative roadblocks. Here are a few ideas to help you find the inspiration for your next piece or to get through a project.
1) RETURN TO NATURE
One of the best places to find inspiration is in nature.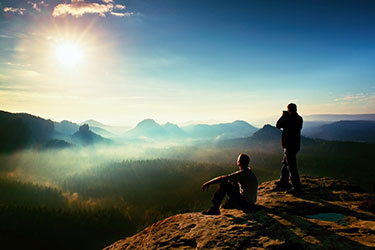 There are woodlands, forests, mountains, beaches, and deserts all across the United States, each with unique and inspiring beauty. But there's more than aesthetic beauty to be found out in the wild.
Nature is a great place for introspection and an escape from the hustle of everyday life. In fact, you should leave your technology and all distractions behind. If you truly immerse yourself in them, each of these landscapes have a way of rejuvenating a person's mind, bringing a new perspective and increasing creativity.
2) EXPLORE A NEW TOPIC
While everyone can benefit from continuing to learn about new subjects, artists and crafters can especially benefit from studying new things. If you've hit a block in your creative process, try finding a new topic to focus on. You could do it by simply reading a new book or self-teaching through online sources.
When you open up your mind to new subjects, you often find that they relate to the things you already knew. Many times when you start comparing your new knowledge with things you already knew, you will find that it gets the creative juices flowing again and your mental block disappears.
3) LISTEN TO MUSIC
Music is an exceptionally powerful tool. Everyone has songs that bring back memories, makes them sad, motivates them, and even inspires them. Next time you find yourself stuck on a project or unable to make progress, consider incorporating music into your creative process.
Remember, it doesn't matter what genre of music you listen to. All that matters is that it helps motivate or inspire you. Sometimes you can just turn on some tunes while you work to get motivated, but other times it's helpful to sit down, meditate, and just change what you are doing for a moment.
4) TAKE A BREAK
Many times when you think of taking a break, you think of removing yourself from a situation that is causing you too much stress. However, taking a break can also be a useful creative tool. This is especially true if you've been bogged down with a project for quite a while.
All you really need to do is get up and leave what you're working on for 20 to 30 minutes. You could take a walk, go to lunch, or go get coffee; anything that takes your mind off of your project. When you return to your project, you'll most likely find that working out a solution isn't so difficult anymore.
5) CHANGE YOUR WORK ENVIRONMENT
Occasionally, breaking through a creative block takes drastic measures. You might even need to change the location where you are working or maybe the layout of your work space. Changing your environment could be as simple as getting rid of clutter or as complex as rearranging your entire space to allow for things like more natural light, open space, or less stress.
If your art or craft allows for it, see if there are other places that you can take your work for a day or two. One way you could do this is through networking with friends who have similar work supplies and tools. See if you can use their work space or maybe collaborate with them on a project.
Finally, getting through a creative block often comes with experience. If you're an artist or crafter who has found something that helps you persevere through a creative block, share your tips in the comments with those who might struggle to break free.