Just like every little girl, Hsiang-Ting Yen loved to play with her mother's jewelry. Drawn to the fun geometric shapes and bold colors, she loved the way jewelry made her look and feel.
Years later, Hsiang-Ting began collecting jewelry and was fascinated with the idea of making her own jewelry. "In my junior year of college, I was introduced to a beginners class on metals and jewelry making," Hsiang-Ting said. "As soon as I held that jeweler's saw in my hand, I knew I had found my calling."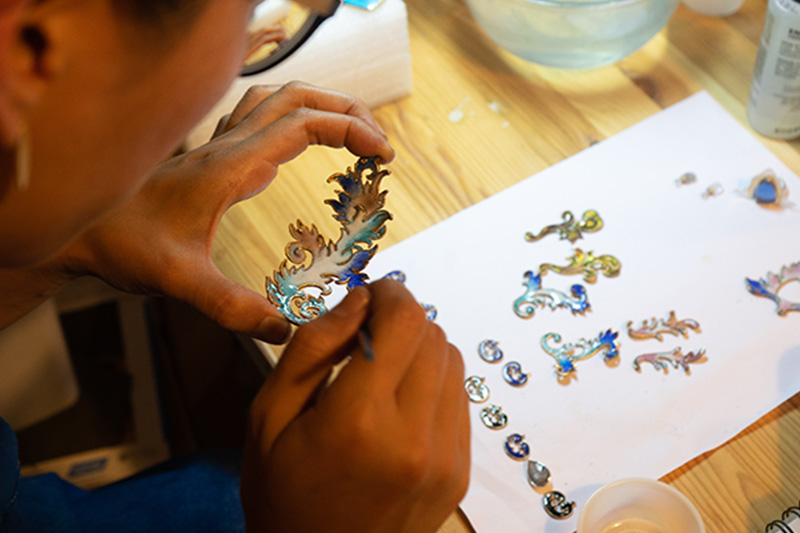 Six years after her first jewelers class, Hsiang-Ting received her M.A. and M.F.A. degrees in Metals and Jewelry from Savannah College of Art and Design (SCAD). During her time there, she was designing jewelry as an intern for an apparel company. It was there she realized she was a path she didn't want to stay on. "The company told me they loved my designs, but they were too intricate and unique—making them too hard to replicate for mass production," Hsiang-Ting recalls. "It showed me I didn't want to design jewelry just to be reproduced in huge batches. I wanted something more personal and challenging."
The Philadelphia Museum of Arts was hosting a craft show where Hsiang-Ting's grad school had the chance to showcase the work of their students. Hsiang-Ting applied and was thrilled when she found out she had been accepted.
"I had the chance to make an entire collection on my own, and for the first time was able to sell directly to people," she said. "I sold out of nearly everything, which made me realize I really could be a studio jeweler selling my own designs to people. I became absorbed with the challenge of problem-solving and brainstorming designs and making the jewelry. I didn't want to stop. In order to continuously share my passion with the world I founded HTY Jewelry in 2013 in Raleigh, North Carolina."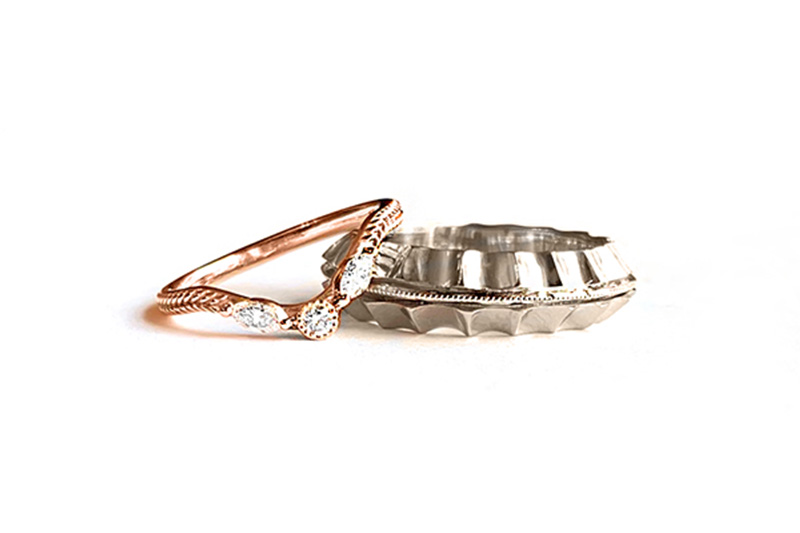 The Confidence To Customize
The first year she was in Raleigh, Hsiang-Ting was working out of a friend's garage until she found her own studio space. Over the next few years, she balanced changing locations, building a home studio, traveling to craft shows and teaching beginner metalwork. In summer 2019, SCAD invited Hsiang-Ting and four other alumni to participate in a 10-week residency at their Lacoste campus in southern France.
"I was given a studio and storefront so I could work and sell products to students and customers," she said. "The experience really boosted my confidence and showed me this was a business model that could work for myself."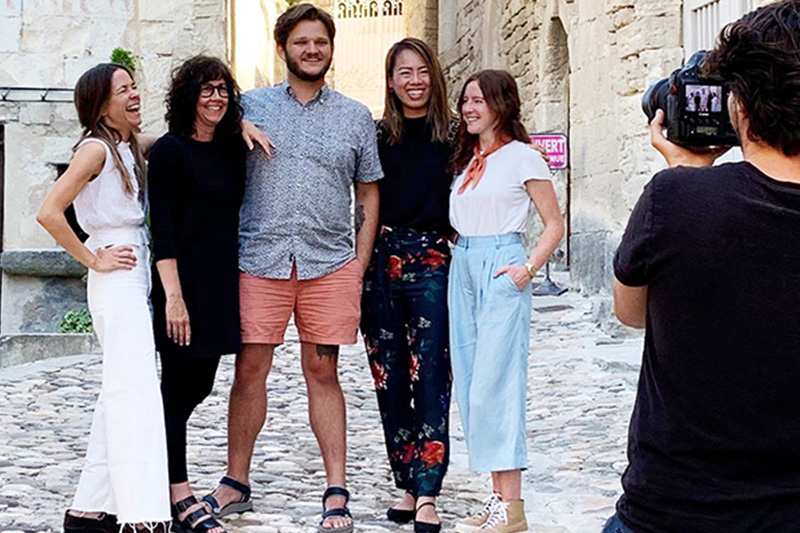 Shortly after she returned, Hsiang-Ting applied for a studio at Artspace in downtown Raleigh and was accepted in March of 2020. Initially, Hsiang-Ting wanted to still split her time between shows and custom work while slowly working toward more custom orders. However, COVID-19 sped up that process. "When the pandemic hit, I had to shift my business model to mostly rely on custom orders instead," Hsiang-Ting said. "At first, I didn't really know how it would work out and if I could even afford to stay there. But with time, I was able to see I made the right decision."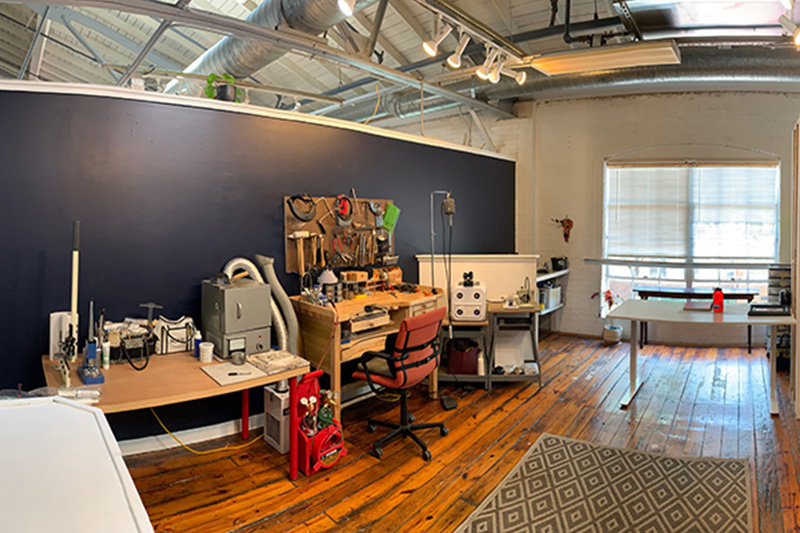 Embracing Chances And Challenges
Going from a garage to a studio, taking her work on the road to shows, and having to quickly adapt her operations to a pandemic, Hsiang-Ting has carried her business through many challenges. Looking back, it feels like the scariest times were also the most rewarding.
"A lot of times I feel like you are your biggest enemy," Hsiang-Ting said. "You let your fears hold you back from taking chances. If you know you want to do something, just go for it and trust in yourself to find a way to make it happen. I am a true believer in the saying 'fake it till you make it.' I tell myself that a lot because I know I can always make it happen."
With over a decade of experience, Hsiang-Ting has seen a lot of things happen to colleagues' businesses. From stolen and damaged equipment to product liability claims, not having insurance has been devastating for many jewelers. "Anything can happen and you never know what could go wrong," Hsiang-Ting said. "Running a business is already stressful enough and I like having a safety net. I know ACT has my back if something goes wrong."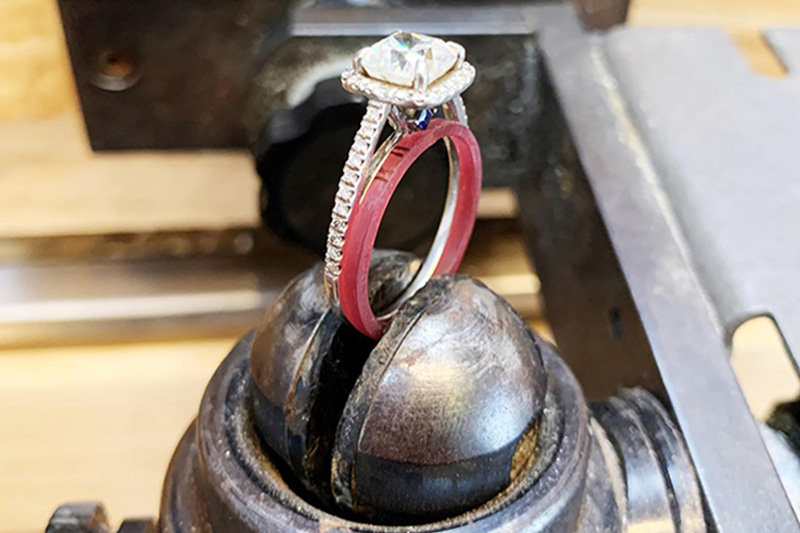 As her business has shifted, so has Hsiang-Ting's style in her work. Fine-tuning her techniques has helped her better emphasize the relationship between the jewelry and the wearer. "My jewelry conveys the symphony of bold colors, organic forms, gemstones, wearability, and artistic instincts," Hsiang-Ting said.
"My goal is to always trust my artistic gut when it comes to jewelry design, and I'm determined to create the most unique and timeless piece to every single of my jewelry lovers."
See more of Hsiang-Ting's work on her Instagram, and check out all of her custom jewelry designs on her site.