Arts and craft fairs can sometimes seem like a high school cafeteria. Here and there are a few lonely booths with no visitors in sight. Then, there are popular booths with crowds of people jostling for a chance to peer at the wares. Obviously, you'll want your booth to be the cool kid in the room and earn a nice profit from the extra attention.
Successful craft booths require plenty of advance planning. While you may be an expert at creating your products, running an excellent craft booth involves a much different set of skills. Avoid these common craft booth mistakes at your next arts and crafts fair.
Pricing Pitfalls That Lower Your Craft Booth's Profit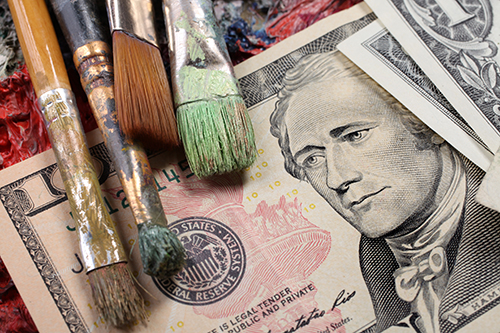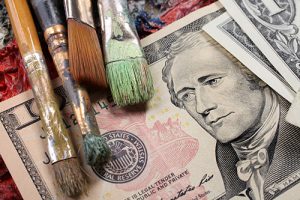 Unmarked prices – Have you ever had to ask for a price only to find out you can't afford it? Awkward! People hate to ask for prices. Make sure all of your items are well-marked with price tags which won't fall off.
No price variety – Having all of your items priced in the same tier will draw only a certain segment of attendees. With a variety of price tiers, you'll attract a wider audience. That child who wants to purchase from your bargain basket may have a parent in tow who may find your higher ticket items appealing.
Having no sales items or bargains – People come to arts and crafts fairs to browse, take in the atmosphere, and to find great deals! Make sure you have a few steals and deals in your booth.
Underpricing – This is a common mistake many new artists and artisans make. While they may calculate only the cost of the materials, they fail to take into account how much time they've spent creating their work of art. Be fair to yourself and set a value upon your time and workmanship.
Marketing Mistakes Which Lose Customers
No sign – Who you are matters to your customers. A booth without a sign is like an orphan with no name. It's sad. Name yourself and display your name proudly with a creative sign that matches your artistic personality.
No draw – Take a step back and analyze your booth. What will catch the eyes of fair attendees strolling by? What can you do to stand out from the competition? Consider interactive components, such as a spinning wheel for prizes or discounts. Bribe kids and adults with a bowl full of brightly colored candies. Perform by creating your art at your booth or offer a small freebie DIY project.
Bad display – Is your display too busy or too monotone? Does it all sit at the same level? Are your extra products, unsightly boxes, or other supplies out of sight? Will your customers be able to easily browse your booth without tripping or crowding each other? Are cords taped down and other hazards removed?
Overwhelming the senses – Are you burning incense or scented candles? Will the smell distract from your display? Are you burning more than one scent? Are you playing loud music? Are your visuals too busy? Create a calm, welcoming atmosphere and your customers are likely to stay longer.
Operating Errors Cause Your Wallet to Scream 'Ouch!'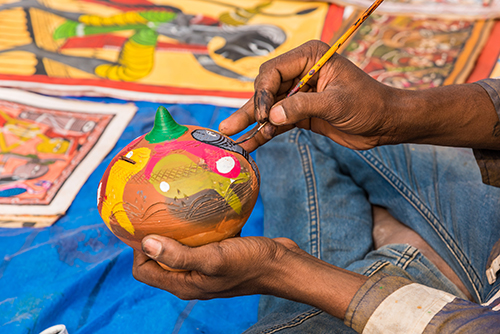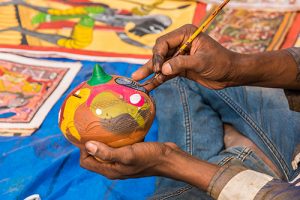 No insurance – It takes just one customer tripping over a cord or a bad storm blowing in and wrecking your display to drain away your hard-earned profit. Make sure to purchase arts and craft insurance prior to your event.
Not taking credit cards – You'll earn a higher profit if you accept credit cards as most people no longer carry cash. Consider setting up an online merchant account or a smart phone merchant account to make transactions easier.
Not having cash or change – Calculate what you may need ahead of time and come prepared with multiple currencies to dole out the correct change.
Being unprepared – Forgetting a piece of your display, or worse, products to sell, could be a disaster. Make a list and double-check it before leaving home. It's a good idea to do a dry run of your booth by setting it up and making note of any extras you might need to have on hand such as electric cords, water, bug spray and sunscreen, extra business cards, a first aid kit, and a small set of tools. Take a photograph of your dry run booth and you'll know exactly where everything goes when you arrive to set up. This will save a lot of time!
Do you have any tips on how to avoid common booth mistakes at an arts and craft show? What mistakes have artists and artisans made that have made you NOT want to purchase from them? Share with us on our Facebook page!
Purchase insurance before your next arts and craft show. We can help! Our show policies start at $49. Click here to learn more about the Artists, Crafters, and Tradesmen Insurance program.