As a professional artist, you take the time to create pieces that will resonate with your customers and others who follow your work. Accordingly, you should expect the same amount of time, effort, and care from the company that provides your insurance. At Artists, Crafters, and Tradesmen Insurance (ACT), we've created an artist insurance program designed to meet your specific needs.
ANNUAL ARTIST INSURANCE
One of the best ways that you can protect yourself against liability claims is by purchasing an artist insurance policy from ACT. The annual policy provides 365 days of coverage from the date of purchase and includes some incredible benefits including: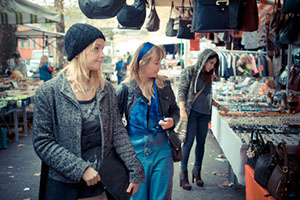 Available in all 50 states
Not premises specific
General liability $1,000,000 per occurrence and $2,000,000 aggregate
Damage premises you've rented coverage $300,000
But wait, there's more!
An annual artist insurance policy also provides you with up to $1,000,000 coverage in the event that your product injures someone.
You can add a $10,000 aggregate coverage for your business personal property wherever you go, and coverage for the event that you are held liable for injuries because of your professional advice or instruction.

You get all this for a starting rate of $279 per year. That's less than a dollar per day! If you're ready to buy, click here.
SHOW ARTIST INSURANCE
We call it our show policy, but this artist insurance coverage is great for festivals, fairs, conventions, tradeshows, and more. It starts at only $49 for 1–3 days of consecutive coverage, with options to extend to as many as 90 days.
While there aren't as many types of coverages offered in this policy, it is still a robust policy that meets most of the insurance needs of artists who only attend a few shows each year. Some of the highlights include:
General liability coverage of $1,000,000/occurrence and $2,000,000 aggregate
No deductible on liability claims
Available in all 50 states
If you are ready to buy an artist show insurance policy, click here
STILL HAVE QUESTIONS?
At ACT we try to make insurance easy. If you still have questions about your artist insurance coverage options, we'd love to hear from you. You can give us a call at 844-520-6991 where you will talk with a live person and not a machine, or you can email us at info@actinsurance.com.