As an artist or crafter, you will likely attend a show or festival that will require you to have a current general liability insurance policy. When you go to purchase this insurance, you might wonder what your policy covers, how much you can expect to pay, and how to add the festival as an additional insured doesn't need to stress you out. While most places make insurance complicated, Artist, Crafters, and Tradesmen Insurance (ACT) strives to make insurance simple.
WHAT DOES MY POLICY COVER?
At ACT, we understand that the insurance needs of artists and crafters are as unique as the products they create. That's why we've simplified your coverage options into two convenient policies: our Show Policy and our Annual Policy. Once you know what you need covered—such as a venue, products, and length of time for coverage—choosing the right policy is easy.
Show Policy
The Show Policy is great for those artists and crafters who are only attending a couple shows each year. It is a general liability policy that can cover you for as little as 1–3 consecutive days or as long as 90 straight days. This is great coverage if you're mostly concerned with:
Protecting your business against claims made of property damage to the venue
Liability for injuries that are caused by your booth setup (but not your products)
Learn more about the show policy. Or, if you're looking for broader coverage, consider the ACT Annual Policy.
Annual Policy
If you're like most artists and crafters who attend many shows and festivals, you'll probably be more interested in extensive coverage offered by the ACT Annual Policy. In addition to general liability coverage, this policy offers products-completed operations coverage and the chance to add business personal property and professional liability coverage. Learn more about the annual policy.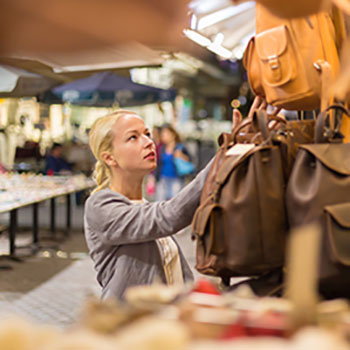 WHAT CAN I EXPECT TO PAY?
You might be thinking that quality coverage is going to cost you an exorbitant amount, but ACT Insurance enables artists and crafters to get the most protection for your dollar. The Show Policy starts at $49 and the Annual Policy starts at $279. On top of getting a low price regardless of whether you buy a Show Policy or an Annual Policy, you also get a lot of other benefits. Each policy has no deductible if you have a liability claim, gives 24/7 access to your policy documents, is effective immediately, and has no extra cost to add an additional insured.
ADDITIONAL INSUREDS
If you are selling at a craft or art show, odds are that you are looking for insurance because the venue requires you to have it to protect the venue from any lawsuits that may occur. When you add a person or organization to your ACT Insurance policy, you extend your coverage to that person or organization as an additional insured. One of the best parts of ACT Insurance is that you can add as many additional insureds as you need to your policy. It also doesn't matter if you've already purchased your policy; you can add a new additional insured at anytime during the policy term.
HOW TO BUY
You can purchase your ACT insurance policy 100% online and it only takes a few minutes of your time. Purchase an Annual Policy if you attend many shows each year and need the broader coverage. If you only attend a few shows and festivals each year, you can purchase a Show Policy here. Both policies offer great coverage and will give you the peace of mind that lets you focus on creating stunning products for your customers.