"To me, art means everything," Laura said. "I feel like I've waited my whole life to be where I'm at today—creating art 24/7. Art is my whole world, it's what I wake up to everyday. It's what I look forward to every morning."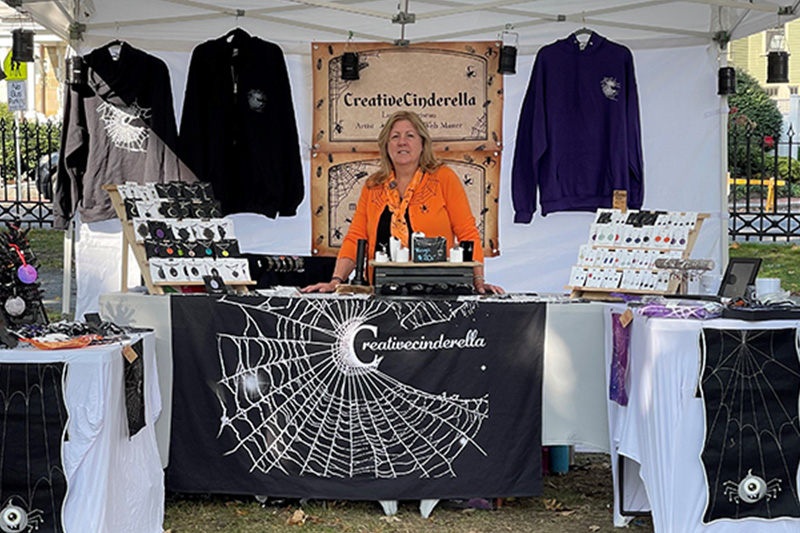 Laura Morriseau's creative life started at birth. She inherited her grandmother's name and her creativity. Her grandmother was a full-time potter, and Laura spent much of her childhood in the pottery studio. "She taught me how to appreciate things in nature and how to use those things in art," Laura said. "One of the things I remember most is a wall hanging made out of objects she found outside. It really showed me you don't have to spend a lot of money on supplies from a store to make something creative and beautiful."
With a love of nature, Laura loved spending time outside in nature. When she was nine years old, a neighbor taught her how to preserve spider webs with a can of hairspray and baby powder. From there, her business CreativeCinderella was born. "For me, it's just part of my life now," Laura said. "I see a spider web and I preserve it. Now I use craft spray to get the same effect, but I still remember my mom always running out of her hairspray because I was using it to collect spider webs."
"I have worked with so many creative mediums, and I also go back to spiderwebs," she said. Laura spends a lot of time in the woods around her house collecting and preserving spider webs. When she sees one, she can instantly know what she wants to do with it. Small webs are often used in jewelry like earrings, larger ones are framed or turned into table top pieces.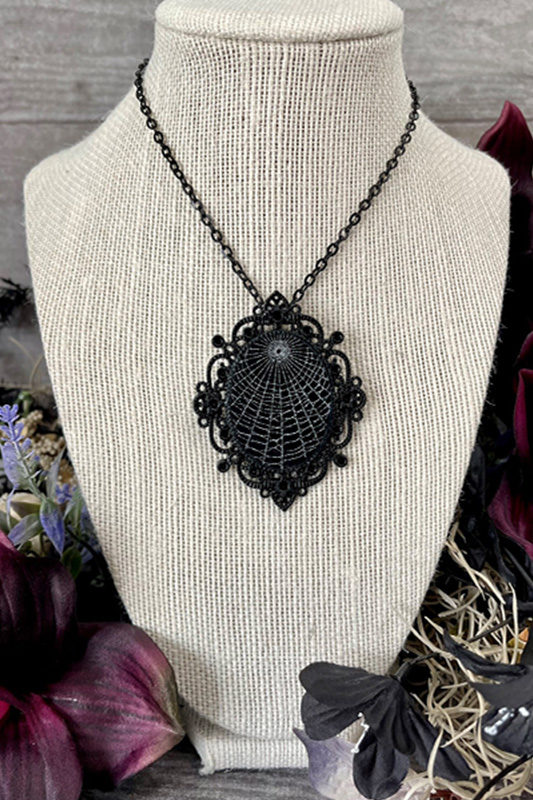 Each creation Laura makes is unique and collected from a single web—none are copied or recreated. The only exception is a crescent moon shaped web you see as a part of her logo and printed on some of her products. How she created this particular web was a happy accident.
While preserving webs outside her house, she accidentally tore one. Her first instinct was to be upset, but she realized the way the web ripped left a crescent moon shape in the middle of it. "Even though I've been doing this since I was a kid, I still make mistakes—but sometimes mistakes are the greatest thing that can happen to you," Laura said. "What once was a ripped web became my logo and part of my work. I print it onto curtains, rugs, coffee mugs, coasters, blankets, you name it. It was a very happy mistake. I mean, who has a copyright on a spider web?"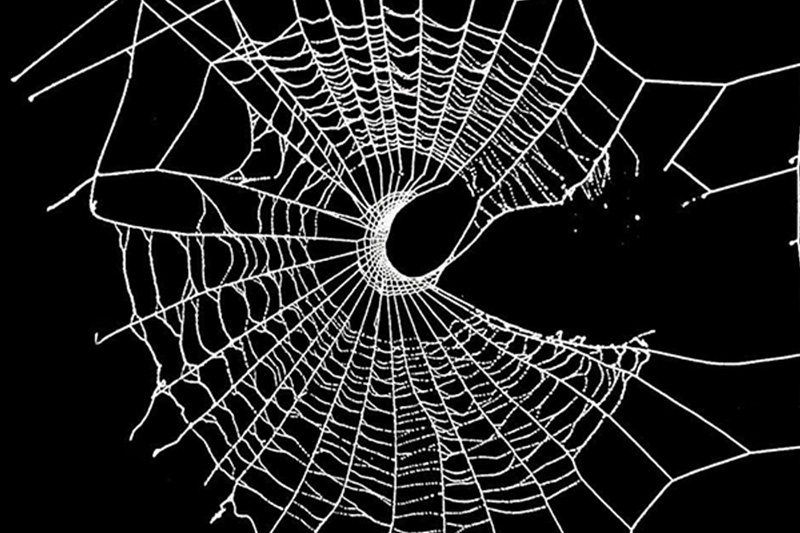 Managing A Small Business
Having run her small business before, Laura knows the challenges that come with it. "Being a creator definitely has its own obstacles," Laura said. "It's like any other job in life, you have to expect challenges along the way. I've always gotten through a hard time by knowing when to ask for help or guidance."
Laura loves the challenge of owning her own business. Her favorite part of each day is waking up, knowing she has new projects to tackle. With all the fun comes risks and fear of what could go wrong. For Laura, having artist insurance helps give her the peace of mind she needs to stay focused on what matters most—her business and her customers.
"When I started CreativeCinderella, I had the opportunity to sell my products in a museum gift shop," she said. "When that wholesale order came in, I was required to show the museum proof of insurance. I never initially thought I would need insurance to sell jewelry, but it made me think, 'what if my necklace broke and hurt someone?' You always want to be aware of those what if's. Having insurance just makes sense to me."
ACT Insurance was suggested to Laura by one of her friends. She was thrilled to know she could be insured entirely online in a matter of minutes—and for half the cost of another quote she received. "As an artist, you might not think you need insurance," Laura said. "Some people say, 'I only get policies for events.' But they still sell to stores or online, or they constantly buy event policies when they do tons of events year-round. ACT's annual policy made it so easy to be insured for small events, big events, and even for selling online. The renewal process is such a breeze, too!"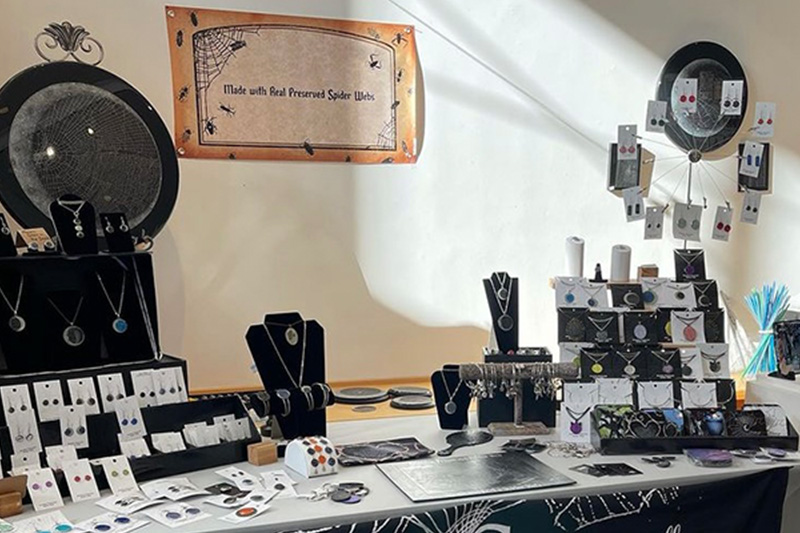 For Laura, getting to honor nature and see art in unusual places is what being a creative is all about. She is careful to never harm any spiders and collects her webs in an environmentally friendly way. Laura's artwork is a way for her to carry on the legacy of her grandmother and keep a memory from her childhood alive.
"Every morning there is something new waiting for me to discover," Laura said. "Whether it be a spider web in the woods, creating something out of a web I found the other day, or seeing an email from a customer requesting a custom piece. The adventure of it all keeps me going."
Follow @websbycinderella on Instagram and Facebook to see more of her products! And check out the episode of Maker Nation, "Webs & Pottery," to see Laura in action with Very Local.