As a creative, the pieces you make are priceless. As a small business owner, every purchase you make is carefully calculated. Insurance can be expensive, but a single claim could cost you hundreds—if not thousands—in expenses. Without insurance, you would be expected to pay those fees out-of-pocket.
Even the most careful artists, crafters, and tradesmen experience accidents. The most common ACT claims come as a result of someone or something else causing damage. Here are 7 examples of real claims from ACT customers and how to avoid them.
A policy holder reported they had rain damage to business personal property, their handmade notecards, greeting cards, art supplies, and additional prints. With the Business Personal Property coverage on their ACT annual policy, the policy holder was able to receive a payout to help cover the costs of the damage.
During a meeting, the policy holder's MacBook Pro was damaged beyond repair by another individual. Because this computer was used for work-related business and had important business information on it, the policy holder was able to receive a payout to help cover the costs of replacing it.
While at an event, unexpected wind and rain damaged a policy holder's canopy tent and several pieces of their artwork. This policy holder was able to be reimbursed for some of their losses.
During the evening and late night, a storm came through an event area where vendors had set up the day before. Tents were thrown everywhere, resulting in a policy holder filing a claim for damaged supplies, artwork, and displays. The annual policy holder was able to replace their items and avoid paying out-of-pocket expenses for other people's items that were damaged from their tent.
At an event, a sudden gust of wind damaged a policy holder's tent and destroyed their art supplies and easels. The policy holder was able to receive a payout to help replace the damaged items.
Upon opening the booth at the start of the business day, the policy holder discovered 72 of their handmade rings were missing. In cases of theft, your annual policy can cover some of your losses. The policy holder was able to make up some of the revenue lost and focus on making new rings to replace them.
When shipping an item from the policy holder's studio to a customer, the art piece was damaged beyond repair. By adding Business Personal Property insurance to your ACT annual policy, you can insure your pieces for shipment over land. This coverage helped the policy holder cover the costs of damaged items and send a new one to the customer.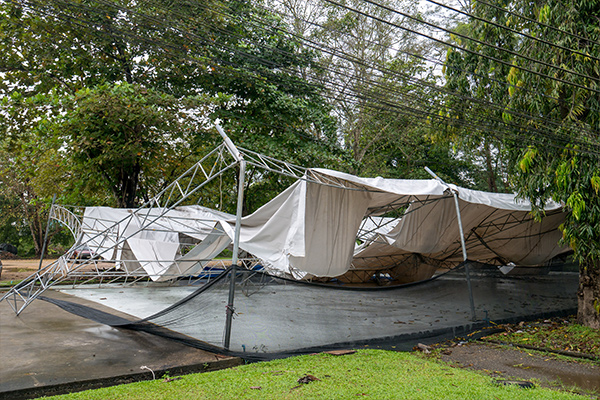 One benefit of the ACT annual policy is the option to add on Business Personal Property coverage. This policy could address a claim in the event your unapprised artwork or inventory was damaged or stolen. If it is determined that it fits within the coverage details, you would receive a claims payout based on the cost of replacement materials of the artwork.
For example, a painting may include a canvas, frames, easels, paint, and more. Unfortunately, your claim would not cover the labor to create that artwork. Insurance company payouts typically cover the replacement of the cost of goods and not "market" or "finished" value as that is often subject to interpretation.
Stay Protected With ACT Insurance
Without insurance, a single claim can cost thousands, damage your reputation, or halt business operations. ACT is here to help you stay protected, navigate the claims process, and lower—or even eliminate—expenses. Your craft deserves to be covered, and we are proud to protect artists, crafters, and tradesmen like you.