We are in the heat of festival and fair season, and if you're a jeweler who is selling or planning to sell your jewelry at these events, you need to protect yourself and your business. Here are five reasons you need jewelry maker insurance from Artists, Crafters, and Tradesmen insurance (ACT).
1) EVENT INSURANCE MAY BE REQUIRED
Many shows, fairs, and festivals will require you to have an insurance policy before you can even sign up for the event. This is usually to protect the event from potentially negligent actions of vendors.
Many times, the event director will request that you send them proof of insurance and name them as an additional insured. ACT makes this simple. When you purchase an ACT policy, you have free, unlimited additional insureds. Simply provide ACT the contact information for your additional insured and we email them a certificate to prove you have insurance.
2) OPTIONAL PROTECTION FOR BUSINESS PERSONAL PROPERTY
As a jewelry maker, you likely have many tools and displays that are part of your business. What would happen if they were vandalized or stolen while you were at a fair? Or perhaps you purchased a nice display tent for the events you attend. Would you be able to replace it if the weather at an event you are attending ruins it?
These examples, and other situations, could be covered with Business Personal Property, or Inland Marine, coverage. With ACT, this coverage is exclusively found as an additional policy for the jewelry maker annual insurance plan. So, if you plan on attending multiple shows each year, this may be the policy for you. Click here to buy.
3) GENERAL LIABILITY PROTECTION
General liability is one of the main features of both the ACT show and annual policies. It provides coverage for your negligence that results in third party bodily injury or property damage claims.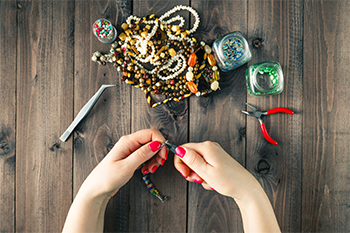 For example, if you were to anchor your tent while attending a show, but the weather proved to be strong and lifted the tent up and it damaged someone else's property, you may be held liable.
This is when having a jewelry maker insurance policy could save your business. Both ACT policies have a $1,000,000 per occurrence limit and a $2,000,000 aggregate limit (the most ACT would pay in a policy term).
4) OPTIONAL PROFESSIONAL LIABILITY
Many jewelry makers will also teach classes to people who would like to start making jewelry, or perhaps they just give advice from time to time. If your advice were to cause injury to another person, you may be taken to court as a result.
Professional liability could protect you if these types of claims were to occur. However, this coverage is exclusive to our annual policy and is only available for an additional premium.
5) LIABILITY COVERAGE FOR THE PRODUCTS YOU MAKE
It's probably the last thing on your mind, but the jewelry you make could potentially cause harm to another person. For example, if you were to sell a necklace and they had an allergic reaction, you might be held responsible.
PROTECT YOURSELF: BUY ONLINE TODAY!
The annual policy starts at only $279 and provides coverage for 365 days. The show policy is a great general liability policy that starts at $49 for 1–3 days, but can be extended for 90 days for an additional premium.
Coverage:
Easy, online, process
Conveniently managed 24/7
Affordable
If you're ready to protect yourself and your business, choose the policy below that best meets your needs.