Joan Radell never liked doing things the traditional way. Whether it's creating her own handbag patterns or building her own sewing tools, Joan is always thinking outside the box.
"When I started quilting, it was very different. The traditional ways of doing things were most recognized and appreciated. Over the last 30 or so years, I have watched the modern quilt movement change things—it's not about covering beds anymore, it's about making art. And my tools help people make their art."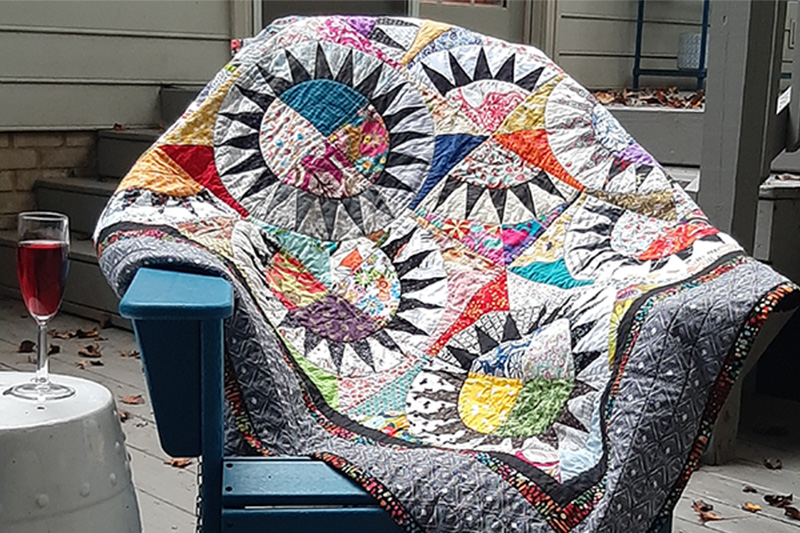 Taught by her grandmother and mother, Joan was a seamstress from a young age. As she grew older, garment making became her main focus. In the 1990s she was introduced to quilting, which quickly grew into a new passion. "I did enter one of my quilts into a contest, but I realized I wasn't in it for the competition," Joan said. "I was in it to use the fabrics like a painter would use paint."
Joan started experimenting with her love of quilting, and fell into handbag design. She began making handbags using quilting techniques, and making her own patterns in the process. As she made her bags, Joan started using her own unusual tools.
"I used to have to save up my change in a jar if I wanted to buy the traditional fancy tools at the craft store, so I started getting creative by either turning household items into tools or making my own," she said. "One of them was a big wooden stick, one was an old makeup wand I used for cleaning my sewing machine, and another was a lady's face razor that I would use as a seam ripper."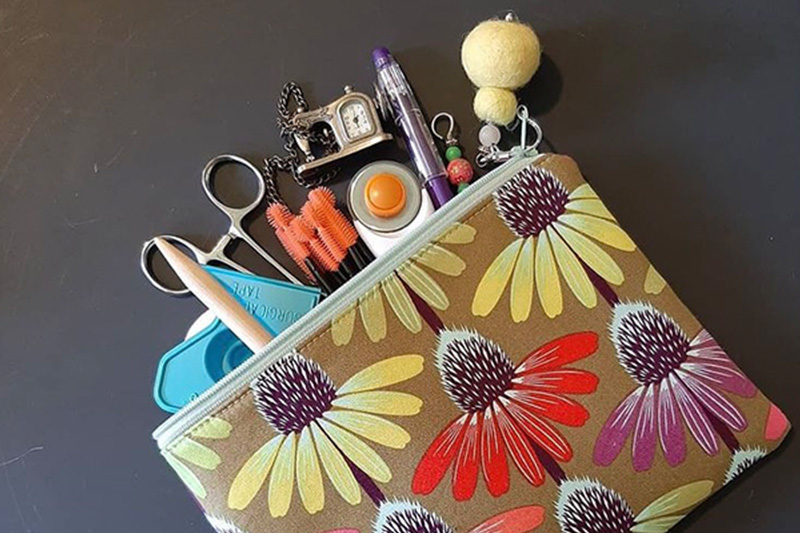 When Joan decided to sell at her first quilting show, she wanted to make her booth unique. "I knew my display would need little items to help fill the shelves and bring everything together," she said. "I brought some of my more unusual homemade tools, and they sold within minutes. As I did more shows, I brought more and more of my own tools. Over a couple of years, the tools had taken over and I realized I had a sewing tool company. That's how I got to where I am now!"
Joan now takes her business, Bucklebee, to craft and quilting shows across the east coast to sell her unique tools. Over the last decade, Joan and her husband have worked hard to continually come up with new products and grow their business. "There are very few small companies selling tools like me," Joan said. "The big house-name companies that have been around for decades are in craft stores. I'm an innovative small business who's at craft shows."
Joan's creativity in repurposing items from other industries is what sets her apart from competitors. While some of her tools are handmade, she is always looking for new ways to use items you might not typically use in sewing. "Everything I sell I use in my own sewing room," she said. "Not only can I tell you what it is and what it does, I can show you how to use it."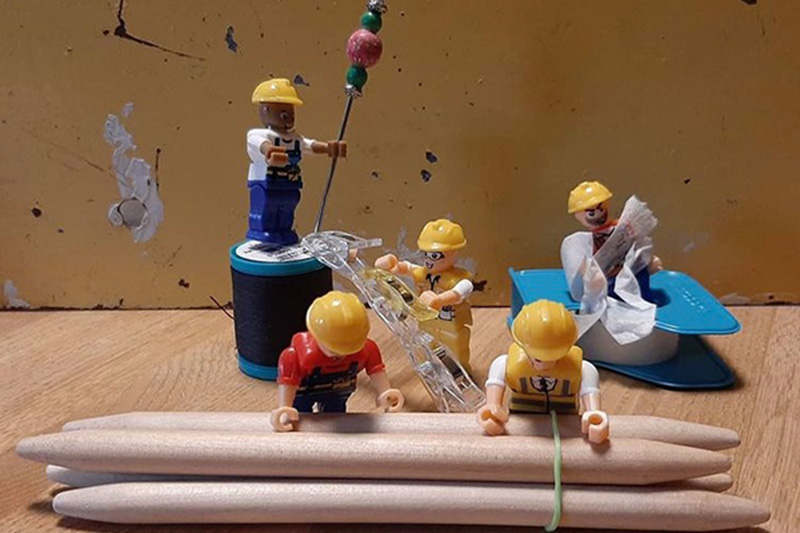 Constructing An Online Presence
Similar to her hands-on approach in her workroom, Joan loves being involved with growing her online presence. She has taken the time to research digital marketing techniques and find what works best for her business. "Social media is huge now, especially for microbusinesses like mine," Joan said. "I don't have ten thousand dollars to spend on an ad campaign, but I have social media. I can maintain an interesting, informative ad campaign on Instagram and build my following there."
Joan started looking at her website and social media analytics when she discovered most of her customers are visiting on mobile devices. She re-designed her website to be mobile friendly, and puts a lot of thought into her online content. Joan found a great way to sell her products is through videos, so she started making short demo videos.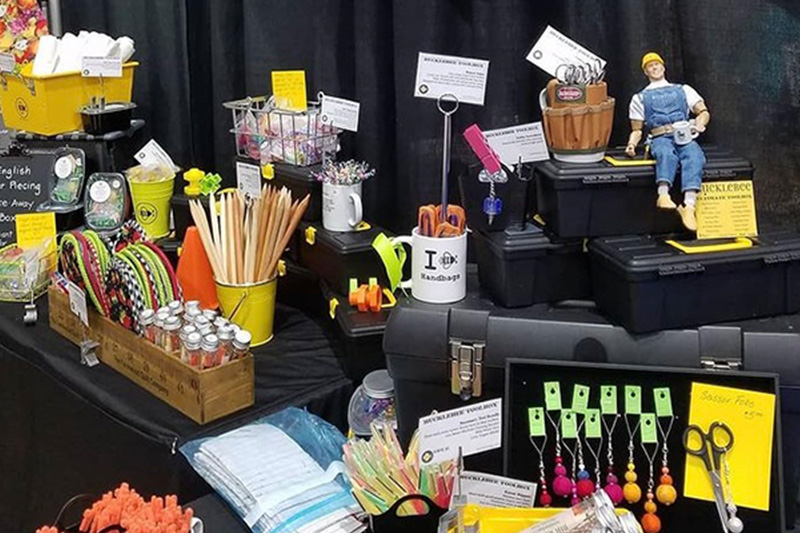 "Just like how your booth design is important, your social media is too," Joan said. "It needs to be engaging and have its own feel. Because I mainly sell sewing tools, I have found success in having a tool box construction theme. I will use toy trucks, black tool boxes, an old oil can, or whatever I can find as props in my photographs and my booth display. People don't need to look at my sign to see what I sell, they can peek in my booth or look at my social media page and know what I am about."
When preparing for events, Joan no longer has to worry about finding an insurance company that will follow her to all her events. Having been a long-time ACT Insurance customer, Joan loves how her policy can work when she does.
"If I need to buy a 3 day block of insurance, I can do it in my pajamas at 11 o'clock at night and have all the paperwork I need instantly," she said. "I can get it done entirely online, and know it was done right. It's one less worry, one less layer of stress for me."
Joan knows life can be unpredictable, and when selling tools she runs the risk of a customer injuring themselves. For her, having insurance just makes sense. "I have no doubt that should we ever need to file a claim, it would be a simple process," Joan said. "Whatever I need to do, I know ACT has me covered."
Stitching Together A Community
For Joan, the sewing community has been welcoming and shown her there is a place for everyone. Whether you make tools, fabric, patterns, or quilts, your skills are needed. "In the sewing community, we have a mentality of 'each one teach one,'" she said. "In order for us to do what we love to do, we need the industry to keep growing. We need fabric designers, we need tool designers, we need sewing machine engineers. Everybody wants each other to do beautiful work."
Since Joan started quilting, so much has changed. "Quilting is not for grandma's anymore!" she joked. "I love how the modern quilting movement changed the fabrics we work with. It doesn't look like Little House on the Prairie anymore. Now we have bright, vibrant colors and big, bold patterns. I love the different textures, colors, and prints in the fabric. There's room for everyone's style now.
If you want to try quilting, sewing, or any other creative outlet, I say to go for it. Always follow the call to be creative—it hasn't led me astray yet!"
Follow Joan on Instagram (@bucklebee_patterns) to see more of her work!