This month, our featured artist is Linda Purrazzella, a mosaic artist and designer, and owner of Hampton Mosaics, Ltd. She creates functional and fine art mosaics including picture frames, garden pots, handcrafted ornaments for Christmas and Judaic Holidays, as well as decorative mosaic wall crosses. She has also created commission fine art mosaics. She sells her work online through Etsy and the handmade online shopping network.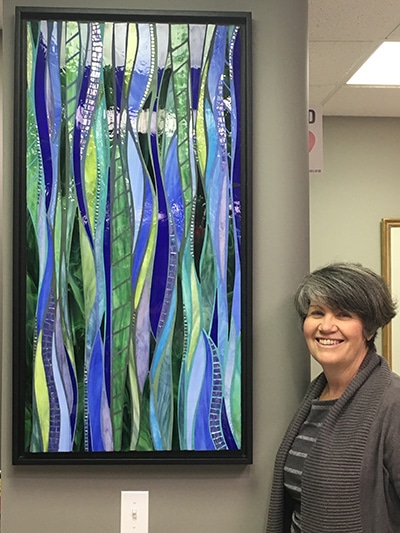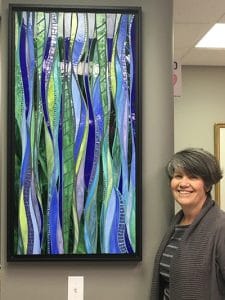 Linda has a BFA from Syracuse University where she was trained in surface pattern design. She worked as a new product development designer for wholesale textile and furnishing manufacturers. She lived in Italy for many years where she realized a deep admiration for mosaics but never thought that she might become a mosaic artist.
When she returned to the United States, she worked as public school art teacher, but soon realized that building a career as a teacher would be very difficult and frustrating because the arts are the last to be funded and the first to be cut.
Linda decided to start her own business and she decided to try her hand at the craft she had admired so much while she was abroad. She trained with a mosaic master for six months and her own work began to receive recognition.
In the next five years, she hopes to continue building her own website and her Etsy and Amazon business. She also hopes to begin to commissioned work in the interior design industry.
Linda, like most successful independent artists, wears a number of hats throughout her day. She is a designer, an artisan, an internet marketer, and a graphic designer. When asked what she believes it takes to be successful in her industry she said it takes,
Perseverance, setting short term goals, knowledge of search engine optimization(SEO) and
social media for internet marketing and developing products of quality. Never giving up and
believing in yourself and surrounding yourself with positive people. Having knowledge of good
business practices and being self-motivated and directed is key. Be willing to put in more hours
than a nine to five job.
Linda brings art into homes, a noble task that we at ACT greatly admire. We are so glad to have her and many other artists like her in our program.
Website:
Online Shops
www.etsy.com/shop/HamptonMosaics
www.etsy.com/shop/KeepsakeArtCrosses
Social Media:
www.instagram.com/hamptonmosaics
www.facebook.com/hamptonmosaics