Jeremy Walker has always admired traditional art styles and the artists still carrying out their practices today. At age 17 he was an apprentice learning the art of hand-painted wooden broomsticks, studying Tibetan Buddhist border patterns and intricate motifs. In his 20s, he was renovating his home when he first tried his hand at stained glass.
After commissioning a local stained glass artist, Ken Tomilson, Jeremy worked with him to bring his vision for a unique window to life. Ken continued to mentor Jeremy and show him there's more to stained glass than window art and church decor. From that moment on, Jeremy found his creative calling in stained glass, leading to Eclipse Art Glass.
"I think people need to experience the art of stained glass," he said. "When people see my studio or the pieces I have made, they start to open their mind up to stained glass in a different way. I do my best to share the story of stained glass and show my art to new people."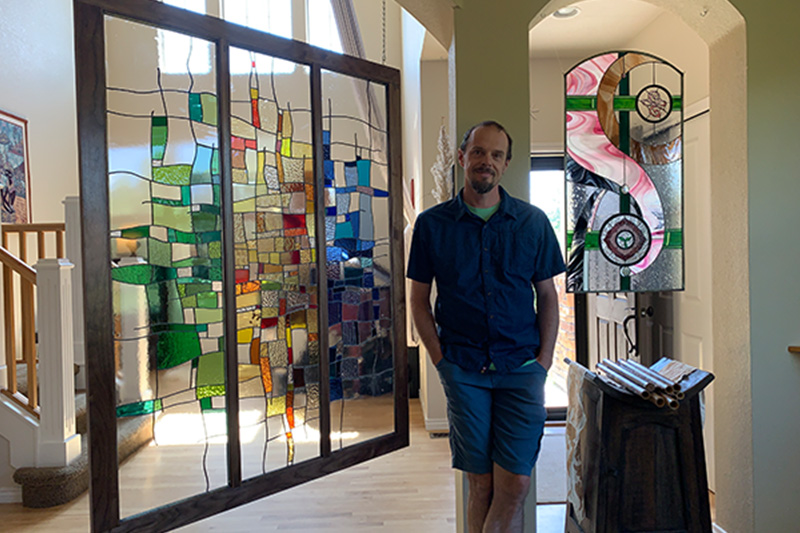 Shattering Artistic Stereotypes
It takes patience to work piece by piece, building a stained glass window. It also takes patience to help revitalize the way people see stained glass. "One of the main challenges I have is how to position myself in a market where stained glass is seen so traditionally and historically," Jeremy said. "My work is very contemporary and modern. While there might be a spiritual element to my designs, it's not strictly a type of religious art form made for churches."
To break from the stereotypical mold of stained glass art, Jeremy likes to create complex yet balanced pieces. "I often feel that mathematics can be a path to understanding the mysticism of nature," he said. "The geometrical, abstract theme of this design aims to convey that beauty."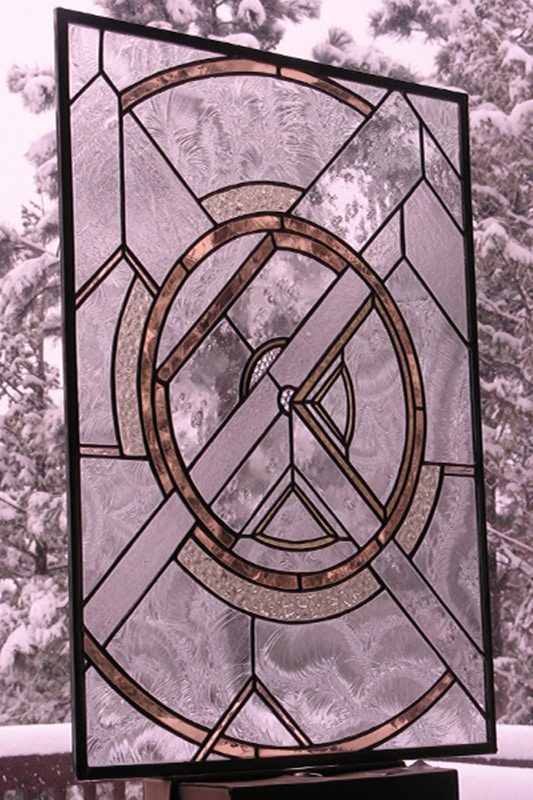 Even though Jeremy is not creating religious works of art, he focuses on illustrating the beauty of life, the tranquility of nature, and the human spiritual journey. He turns a puzzle of glass into a peaceful display. One thing Jeremy tries to do is make his art come to life. "The way stained glass looks can change based on the time of day, the weather, how the sky looks, and what's behind it," he said. "Stained glass is very dynamic. This medium offers people an experience with their art."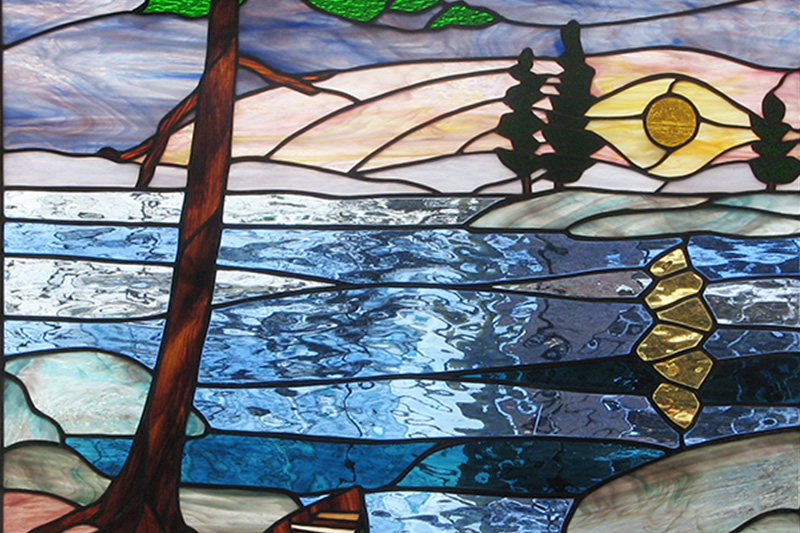 Transitioning Perspectives
While Jeremy has spent most of his life working with stained glass, it wasn't always his primary focus. "I was always doing art on the side while working full time as a software developer," he said. "It was never something I wanted to put the pressure on of turning into a career. I didn't want to pollute a passion in my life with the idea that it had to make me money, interfering with the artistic direction of my work."
For Jeremy, having a career to earn money helped him keep the passion for stained glass alive. However, it hindered him from the chance to take himself seriously as an artist.
"It came to a point where I decided I needed to take myself seriously, and that meant I wanted to make stained glass my career," Jeremy said. "Part of being an artist is sharing your gift—you're impacting the world in some sort of way. You sometimes need to leave reality and go into your own little world in order to come up with something from inside of yourself which may be of value to the culture because it isn't mainstream or in your everyday store."
Jeremy's quest to interpret peace in his art flowed into his personal life as well. As he transitioned out of his full time job, he fell into becoming a personal life coach. He quickly saw similarities between his coaching and his art. Jeremy said, "I am trying to offer new, transcendent perspectives to help other people recognize the deeper, peaceful patterns in life—and what life itself is trying to teach us."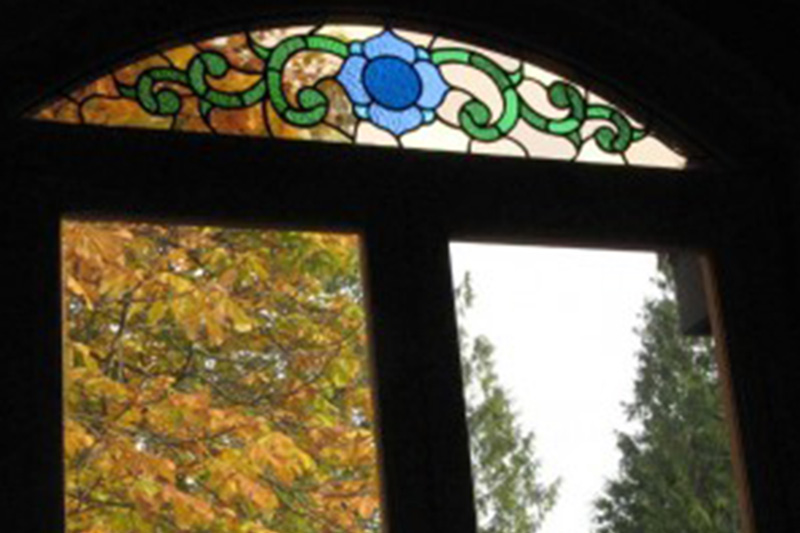 Working with different colors, textures, opacities, and more, Jeremy carefully cuts, shapes, and solders stained glass together piece by piece. "Because glass is super fragile, you occasionally get a piece where something cracks," Jeremy said. "I could be completely done and the next day a crack appears in the glass. You have to get used to it and know there is going to be some redoing."
But cracks in the glass is not the only thing Jeremy has to worry about. When an accident occurred with one of his pieces, Jeremy realized the importance of having artist insurance. While his pieces bring peace to customers, ACT Insurance now brings peace of mind to Jeremy.
"For a while I didn't think insurance was important," he said. "About a year ago I had a large abstract piece hanging in my house. My daughter opened the front door and a gust of wind came in, breaking one of the strings holding it up. I realized how much could have gone wrong. What if my piece falls on someone or they get hurt on a broken piece of glass? Someone could claim it's my fault, and that was pretty eye opening for me. I realized how much insurance can protect you when an unforeseeable circumstance occurs."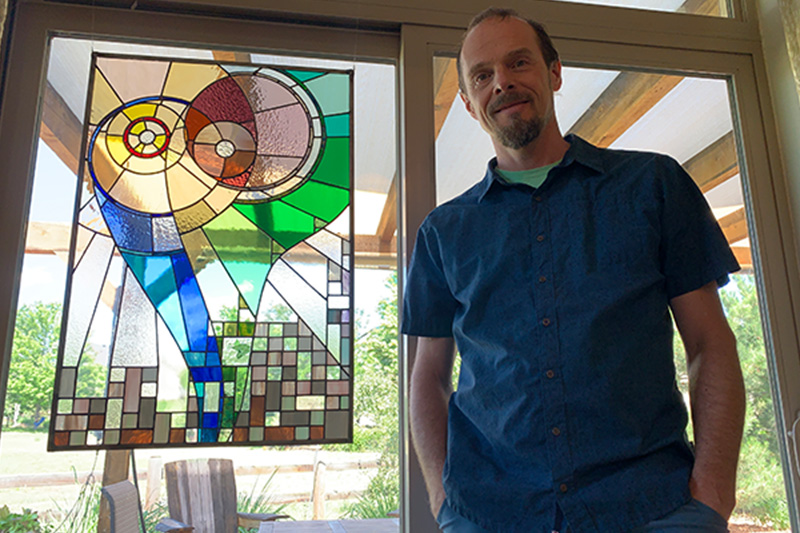 Looking Through The Glass
For Jeremy, his work is all about getting to communicate a deeper meaning and new perspective. Sometimes the message he is illustrating is clear to him from the start, other times it emerges as he works. "I feel like I get to live in a constant state of wonder, peace, and awe as a creator as I see my work come to life," Jeremy said. "I think it's a privilege to try to illustrate some of the deeper meanings of life as I interpret it to people through stained glass. It's not always easy to describe, but I feel like I have one foot in the dimension of my art and another in reality, and I am trying to bridge them together.
Art has the ability to communicate to us beyond the ordinary, physical aspect of existence—reminding us of something much larger that brings incredible meaning to our collective reality."
Discover the beauty of stained glass on Jeremy's website Eclipse Art Glass today! There you will find information about freelance work that Jeremy currently has for sale and you can learn about his commissions process.